Birdwatching on 11/12/2017
This mourning Terry Boss and I started at Jahra Pools Reserve, our main target was Turkestan Shrike on his last day in Kuwait. We managed to see one, saw also Mountain Chiffchaffs and a Crested Honey Buzzard.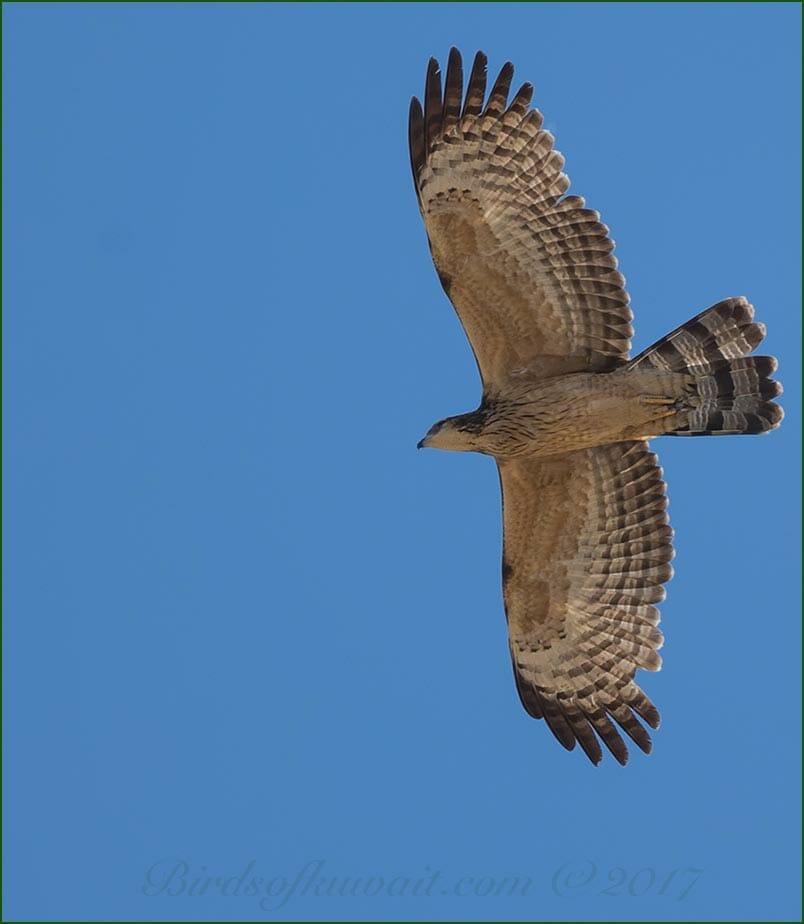 Jahra Pools Reserve:
Northern Shoveler Anas clypeata 35, Gadwall Anas strepera 1, Mallard Anas platyrhynchos 2, Northern Pintail Anas acuta 1, Eurasian Teal Anas crecca 6, Common Pochard Aythya ferina 16, Ferruginous Duck Aythya nyroca 6, Tufted Duck Aythya fuligula 3, Little Grebe Tachybaptus ruficollis 4, Continental Great Cormorant Phalacrocorax sinensis 4, Little Bittern Ixobrychus minutus 2, Grey Heron Ardea cinerea 2, Purple Heron Ardea purpurea 1, Great White Egret Ardea alba 2, Little Egret Egretta garzetta 31, Crested Honey Buzzard Pernis ptilorhynchus 1, Greater Spotted Eagle Clanga clanga 4, Water Rail Rallus aquaticus 1, Common Moorhen Gallinula chloropus 5, Eurasian Coot Fulica atra 58, Pied Avocet Recurvirostra avosetta 1, White-tailed Lapwing Vanellus leucurus 3, Ruff Calidris pugnax 1, Common Snipe Gallinago gallinago 10, Marsh Sandpiper Tringa stagnatilis 3, Collared Dove Streptopelia decaocto 26, Pallid Swift Apus pallidus 10, Common Kingfisher Alcedo atthis 2, Pied Kingfisher Ceryle rudis 3, Red-tailed Shrike Lanius phoenicuroides 1, Isabelline Shrike Lanius isabellinus 6, Common Chiffchaff Phylloscopus collybita 8, Mountain Chiffchaff Phylloscopus sindianus 2, Moustached Warbler Acrocephalus melanopogon 3, Indian Reed Warbler Acrocephalus (stentoreus) brunnescens 1, Graceful Prinia Prinia gracilis 4, Bluethroat Luscinia svecica 1, European Stonechat Saxicola rubicola 4, White Wagtail Motacilla alba 4, Water Pipit Anthus spinoletta 4.
Jahra Farms:
Cattle Egret Bubulcus ibis 11, Laughing Dove Streptopelia senegalensis 5, White-throated Kingfisher Halcyon smyrnensis 1, Ring-necked Parakeet Psittacula krameri 2, Daurian Shrike Lanius isabellinus 1, Masked Shrike Lanius nubicus 1, White-eared Bulbul Pycnonotus leucotis 17, Song Thrush Turdus philomelos 8, Common Myna Acridotheres tristis 8, White Wagtail Motacilla alba 8, Meadow Pipit Anthus pratensis 5, Water Pipit Anthus spinoletta 8, House Sparrow Passer domesticus 35, Spanish Sparrow Passer hispaniolensis 26, ,