Top Birdwatching Sites in Kuwait
Fifty-four birdwatching sites and nine islands are described on this page
All coordinates are included and clickable to take you to Google Maps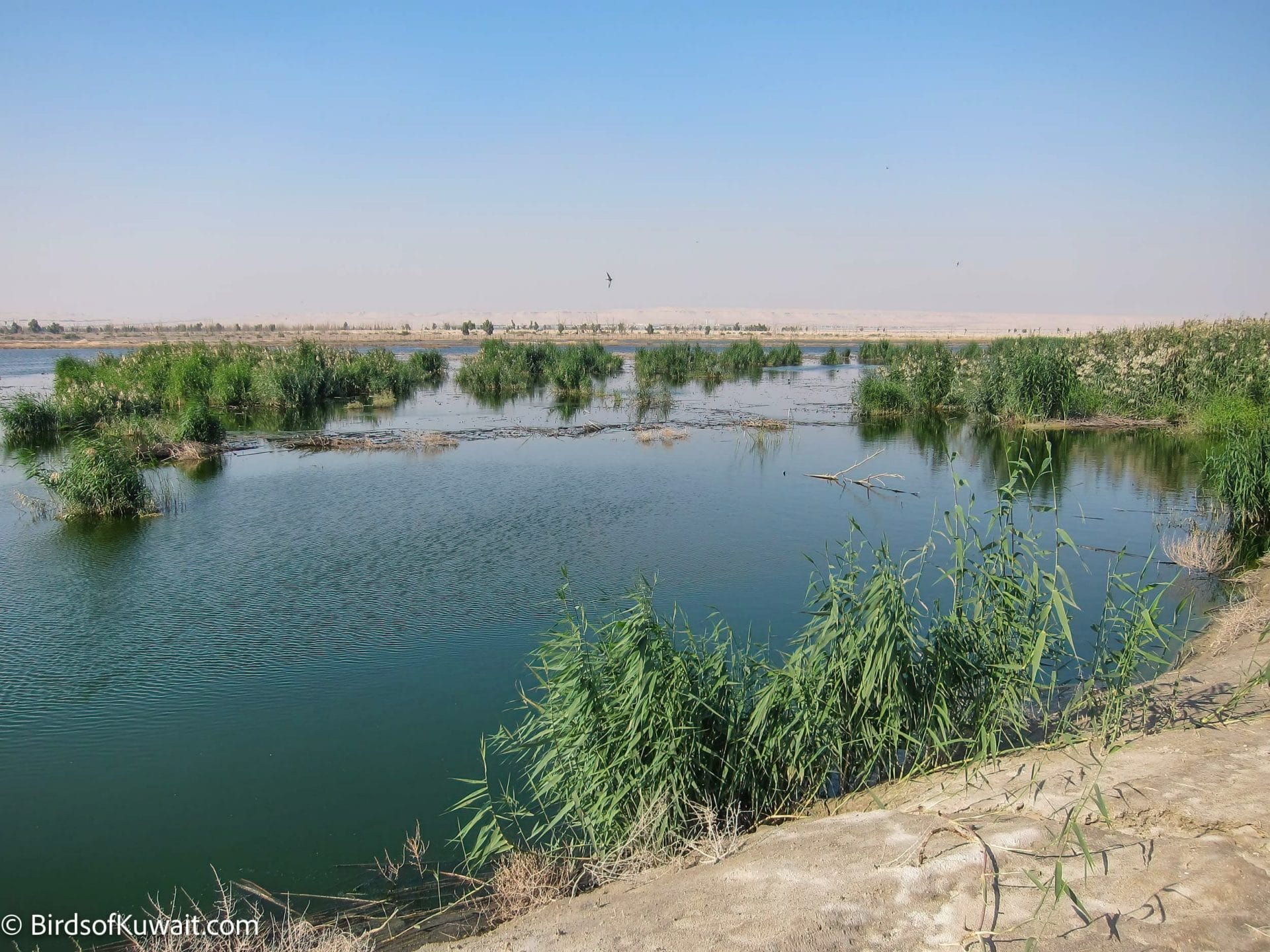 An interactive map below shows the nearest Birdwatching site to you
Introduction
When visiting Kuwait, as a birdwatcher, one needs to know where to go for birdwatching. I compiled this list of birding sites to help birdwatchers know where to go and what to expect there. There is a diversity of birdwatching sites that is interesting; from the plain desert, where you see lark, wetlands such as the famous Jahra Pools Reserve, and desert oases such as Abraq al Habari, the Jal al Zour ridges, and the coastal areas. Thus there is a diversity of birds in this small country.
When visiting these sites, remember:
Although some sites are private, one has to be careful not to upset the owners. These include staying away from the private buildings and driving slowly and only on tracks. At some sites, when the owners are there, they sometimes ask you to leave; just thank them for letting you in and leave quietly. Don't criticize or intervene with what they do on their property, in public or on social media, or publish unnecessary photos unrelated to birds, etc. Remember that whatever you do is reflected back on the birding community. Remember that, by law, you are not allowed to approach bird nests or take close-up photos unless you have permission from the Environmental Public Authority.
If you are new to birdwatching, try to go to public parks, for example, the Al-Shaheed Park or Fintas Park.
The Birding Sites:
Top Birdwatching Sites in Kuwait:
Sabah Al-Ahmad Natural Reserve – Coordinates at the gate N 29 31.489, E 047 49.064
Closed at the moment!
Tulha inside SAANR – N 29 35.151, E 047 47.040
Inside the Sabah Al-Ahmad Natural Reserve, so inaccessible at the moment.
Wadi Um Er-Rimam inside SAANR N 29 33.610, E 047 43.600
Inside the Sabah Al-Ahmad Natural Reserve, so inaccessible.
Abdaly Farms, Bodai Farm N 29 58.064, E 047 48.571
A good place to see the Afghan Babbler and other migrating and wintering birds.
Al Ratqa N 30 03.237, E 047 28.753
A desert habitat for larks and migrating birds.
Abraq Al-Habari Oasis 29°22'09.4″N 46°57'48.3″E
This is the top birdwatching site for rarities during winter and also spring migration. It is a private place so one has to ask for permission first from the owners. Only drive slowly and on tracks and avoid being close to the main buildings.
Sulaibikhat Nature Reserve at the gate N 29 19.429, E 047 52.774
Need a permit to get in. It is run by the Voluntary Work Centre.
Al-Shallal's Farm at the gate N 29 34.334, E 047 54.540
An oasis in the desert that attracts migrant and wintering birds. It is a private property, so ask for permission before getting in.
Jahra Farms 29°21'08.2″N 47°40'24.8″E
A good birding site for wintering and migrating birds, these are traditional farms that grow vegetables and date palm trees. It is full of green, scattered trees and water ditches.
Mutla'a Ranch 29°33'00.4″N 47°42'37.5″E
A small farm in the desert that attracts migratory and wintering birds. Plain Leaf Warbler, Eversmann's Redstart, Asian Shikra, Sooty Falcon, and Crested Honey Buzzard have all been seen on this farm. It is strictly private property, so take extra measures to gain permission from the owners.
Al Khuwaisat 29°24'01.7″N 47°43'01.4″E
A coastal area that is a stop-over for migrating raptors. It is an open place.
Jahra East Outfall, JEO. N 29 21.474, E 047 43.807
This is an excellent place with pools and reed beds. During migration, the site is full of migrating birds. It is now annexed to Jahra Pools Reserve. You need to get a permit from the Environmental Public Authority to enter the reserve.
Sulaibiya Pivot Fields N 29 15.950, E 047 45.273
These are closed private farms. One needs to get permission from the owners to enter, otherwise only birdwatch from outside. Raptors can be seen flying and some small passerines can be seen over the fence.
Jahra Pool Reserve N29 21.391, E47 41.530
Recently the site had its water increased, and the pools expanded, so it has become one of the best birding sites. The entrance needs a permit from the Environmental Public Authority.
Kabd (Reserve) Research Station (KISR) 29°10'25.1″N 47°44'10.2″E
A research station managed by the Kuwait Institute for Scientific Research, KISR. Its access is Strictly limited. For entrance, a gate pass is needed.
Funaitees 29°12'45.2″N 48°06'29.5″E
This site attracts good numbers of waders, terns, and gulls such as Pallas's, Heuglin's, Caspian, Baltic, and Steppe Gulls. And terns include Caspian, Swift, and Lesser Crested Terns.
Abu Al Hassaniya Beach North 29°12'29.2″N 48°06'35.6″E
This is also a small park good for tern gulls and small waders.
Abu Al Hassaniya Beach South 29°11'20.6″N 48°06'59.1″E
The same applies to the previous site. In October-November one would see Caspian, Swift, and Lesser Crested Terns and later by January Pallas's Gull and other waders.
Fintas Public Park 29°09'56.2″N 48°07'19.9″E
A public park that had attracted a wintering 3rd Ashy Drongo back in 2013.
Police Officers Club 29°12'04.4″N 48°06'46.1″E
There is an open area north of the club that attracts some waders and gulls.
Al Zour Sewage Treatment Plant 28°44'21.7″N 48°16'27.8″E
This is a subkha and reed bed site that attracts few waders but is worth a visit only if is on your own.
Al Khiran South 28°37'56.9″N 48°23'31.3″E
Inlet seawater attracts waders and gulls.
Al Nuwaiseeb Lycium Bushes 28°35'51.0″N 48°23'26.0″E
This is the site for migrating and wintering wheatears, rock thrushes, and warblers.
Ras Al Subiyah 29°33'58.0″N 48°07'53.6″E
This is an under-watched area due to its being distant, but there is a discharge of water from the power plant next to it that attracts waders. The Lycium bushes around the site do attract Asian Desert Warblers, Menetries's Warblers. The desert around it attracts wheatears.
Jal AlZour 29°26'35.0″N 47°43'52.5″E
This is a desert with ridges that forms a good habitat for Lilith Owl and wintering wheatears such as Red-tailed, Finsch's, mourning, and White-crowned Black Wheatears. Also, Blue Rock Thrush winters in this area.
Green Island 29°21'53.7″N 48°01'39.8″E
This is a site for garden birds, so to speak; white-eared and Red-vented Bulbuls are seen here together with the iconic Hypocolius. Ruppell's Weavers were seen recently on many occasions as escaped birds and showed some breeding signs. But many good birds do turn up during migration, though.
Al-Kout Mall 29°04'37.2″N 48°08'32.5″E
In spring, one is expected to see Bridled, White-cheeked, and Lesser Crested Terns and also Socotra Cormorant.
Fahaheel Park 29°04'32.9″N 48°08'23.7″E
This is situated next to Al-Kout Mall and is worth a visit. It seems to be an abandoned local park. It attracts some good birds during early winter and during migration. An Eversmann's Redstart has been seen here.
United Poultry Pivot Fields Co. – 29°10'19.1″N 47°12'29.9″E
The pivot fields belong to the United Poultry Company; they are large and situated in the middle of the desert, making it an excellent birding site. It is expanding and attracting more birds nowadays. Although it is closed and fenced, some open pivot fields are near the fence.
Shuwaikh Park (Al Sadaqah & Al Salam Park) 29°21'09.3″N 47°57'01.8″E
This a large open park good for pipits, and wagtails.
Al-Shaheed Park 29°22'13.6″N 47°59'37.0″E
A large park that has different artificial habitats, including reedbeds, pools, and open grassy areas with scattered trees. In winter and during migration, it attracts shrikes, pipits, nightjars, warblers, and buntings. Also little Bittern, Basra Reed Warbler, Cinereous Bunting are highlights in April.
Al-Nuwaiseeb – Rubbish Dumps 28°35'27.9″N 48°23'38.5″E
A good area for wintering wheatears, such as Finsch's and Red-tailed Wheatear. Desert Finches breed there and can be seen in March and April.
Adan Park 29°08'06.5″N 48°06'03.6″E
It is an open park that attracts pipits and wagtail, and warblers.
Al Rumaithiya Public Park 29°18'58.3″N 48°04'54.5″E
It is an open park that attracts pipits and wagtail, and warblers.
Al Wafra Farms 28°34'32.1″N 48°05'48.4″E
It is a large area with fenced farms; with luck, you can find a rarity. A Masked Wagtail and Evermman's Redstarts were seen once.
Zour Port 28°44'25.8″N 48°22'52.4″E
A coastal area that is good for shorebirds, including Socotra Cormorant.
Al Liyah Reserve North 29°35'45.2″N 47°36'48.5″E
A desert with a pool that is good for common larks and Wheaters and warblers such as Menetries's Warbler and Asian Desert Warbler. Also, shrikes, and warblers in winter and during migration.
Al Liyah Reserve South 29°35'18.4″N 47°36'51.5″E
A desert with a pool that is good for common larks and Wheaters and warblers such as Menetries's Warbler and Asian Desert Warbler. Also, shrikes, and warblers in winter and during migration.
KISR (Kuwait Institute for Scientific Research) – West 29°20'05.6″N 47°54'09.6″E
A good area for several terns, gulls, waders, and flamingos. Lesser Flamingo became a regular winter visitor.
Sulaibikhat Traditional Cafe 29°19'09.9″N 47°51'38.9″E
This is the best wader's roost area. It includes Lesser and Greater Sand Plover, Terek and Broad-billed Sandpiper, Carb-plover, and all the terns and gulls.
Sulaibikhat Sports Club 29°19'27.8″N 47°49'36.0″E
This birdwatching site attracts similar species to the above site.
Zaid Reserve 29°20'25.8″N 47°48'09.1″E
This is a closed reserve but can be accessed with a pre-arranged permit.
Doha Reserve 29°21'45.5″N 47°49'06.7″E
This is a good birding spot for roosting gulls, terns, and waders. In mid-winter, a large roost of Pallas's Gulls can be seen here.
Oshairej West 29°22'36.8″N 47°50'09.1″E
A good spot for Crab-plover in winter and for waders and gulls. Terek, Broad-billed, and Marsh Sandpiper can be seen in winter with Lesser and Greater Sand Plover.
Oshairej East 29°22'50.3″N 47°50'47.2″E
It has similar species, but Western Reef Heron is a commoner here.
Oshairej North 29°23'04.9″N 47°50'15.2″E
There are few species here, but Lesser and Greater Sand Plover can be seen here as well as Terek Sandpiper.
Al Salmi Desert 29°07'07.8″N 46°41'03.4″E
This Birding site is at the extreme west of Kuwait. Temminck's Lark, Desert Lark, Arabian, and Thick-billed Lark can be seen here, but the latter two are much rarer.
Al Dhubai'iya Wetland 28°55'42.5″N 48°11'40.7″E
This birding site has few species, but Marsh, Wood, and Green Sandpiper are common there, together with Black-winged Stilts.
Sabah Al Ahmad Wetland 28°46'32.5″N 48°06'21.8″E
This is a good birding site for many species as it has two drinking pools that attract eagles, buzzards, cranes, and the Macquin's Bustard (very rare nowadays). Also, as migrating warblers, finches, and many more.
Ras Al Salmiya 29°21'08.4″N 48°05'49.0″E
It is an excellent site to see sea birds and migrant warblers.
Souk Sharq 29°23'14.2″N 47°58'38.8″E
It is a birdwatching site for gull and terns and, on a rare occasion Socotra Cormorant.
Kuwait Towers 29°23'25.1″N 48°00'08.5″E
It is a birding site for mynas, warblers, and crows.
Maternity Hospital Beach – 29°19'50.7″N 47°53'39.2″E
Kuwait's Islands
Kubbar Island. 29°04'16.4″N 48°29'35.8″E
This island hosts a breeding colony of Bridled, Lesser Crested, Swift, and White-cheeked Terns. Estimated breeding pairs on this island are as follows: 2000 White-cheeked Tern, 2200 Bridled Tern, 200 Lesser Crested Tern, and only three pairs of Swift (Greater Crested) Tern.
Qaruh Island. 28°49'02.9″N 48°46'35.7″E
Um AL Maradim Island. 28°40'48.7″N 48°39'06.8″E
An island that may have some breeding birds similar Kubbar Island.
Auhah Island. 29°22'40.8″N 48°26'25.1″E
An island that had a small population of birds breeding in the past. Under-birdwatched at the moment.
Failaka Island. 29°26'45.2″N 48°18'04.3″E
Miskan Island 29°29'11.0″N 48°15'06.6″E
Bubiyan Island. 29°51'05.1″N 48°08'29.8″
Bubiyan Island is the most significant island for breeding birds in Kuwait after Kubbar Island. It hosts nine regularly breeding birds; these are as follows: 1600 breeding pairs of Slender-billed Gull, 600 pairs of Swift Tern, 250 pairs of Caspian Tern, 50 breeding pairs of Eurasian Spoonbill, 150 breeding pairs of Grey Heron, 450 breeding pairs of Indian Reef Heron, 800 pairs of Gull-billed Tern, 1600 pairs of Crab Plover, and an unknown number of Kentish Plovers.
Warba Island. 29°58'54.0″N 48°04'19.8″E
Umm an Namil Island. 29°22'53.3″N 47°52'03.5″E
A small island close to the end of the Doha Peninsula. It is much disturbed by human activities.