4/4 – 8/4 at various sites in Kuwait
We visited Fintas Park in the morning on April 4th and we managed to see Ashy Drongo again. Next stop was Fahaheel Al-Kout Shopping Mall and it's sea watching tower. At Fahaheel we managed to see at least 2 White-cheeked Terns, one Swift Tern, Arctic Skua and surprisingly 2 Brown Boobies – new species for Kuwait. The latter one must naturally be accepted by Kuwait Ornithological Rarities Committee. After Fahaheel we headed to Port Zour in hope to see Bridled Tern and Socotra Cormorant. Both species were elusive and we didn't see them. We saw only 3 White-cheeked Terns. Next day was chosen for Al Abraq but due to sandstorm it wasn't very productive. Only new species was Upcher;s Warbler. At Jahra Farms on April 5th we saw 7 Bank Mynas and 2 Hypocolius. Next day's highlights were Baillon's crake at Jahra Pool Reserve and 2 female Caspian Plovers at Jahra East Outfall. At the time when I departed 4 German birder's previous night, I joked that tomorrow we'll see Basra Reed Warble, Socotra Cormorant and Bridled Tern. This happened next day. We saw on Green Island Basra Reed Warbler. In port Zlour we had about 30 Bridled Terns and 1 Socotra Cormorant. We had to move on. No bird was seen next day (08/04) was selected a trip to north. In Abdaly Farms we quickly spotted c. 1o Hypocolius and 5 Afghan Babblers including one chick.
Basra Reed Warbler (Acrocephalus griseldis) The first bird was seen on April 7th on Green Island.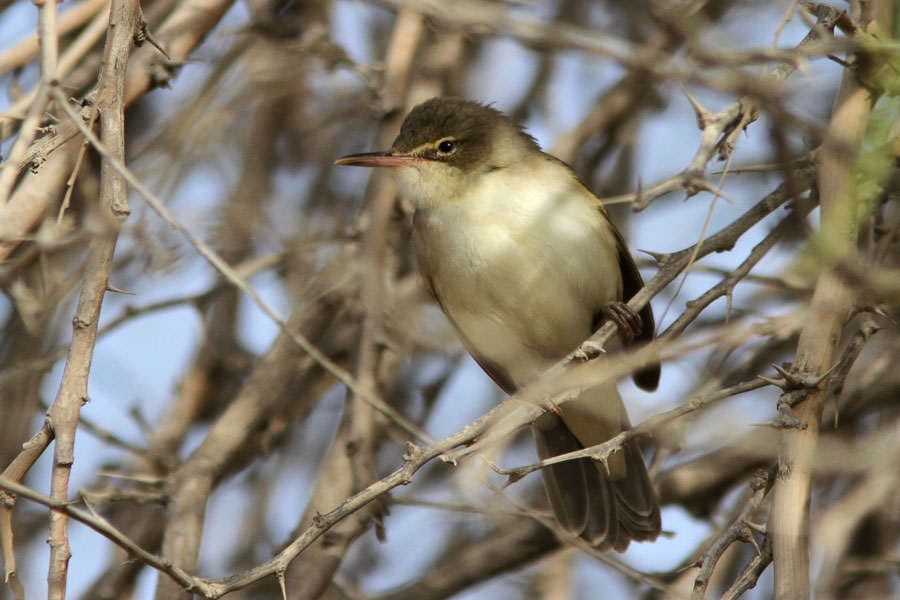 Socotra Cormorant (Phalacrocorax nigrogularis) Similarly the first bird was seen on April 7th in Port Zour.