9/4 – 10/4 in interesting sites of Kuwait
We tried on 9th of April Ashy Drongo at Fintas Park but for vain. Cinereous Bunting was still present. In the afternoon we headed to Doha Spit to see Lesser Sandplovers and other waders which we saw pretty well. After that we checked one new farm in Jahra not founding anything new. The day was ended at Jahra East Outfall. Next morning we headed to Al Abraq. Almost immediately after our arrival Angelo and Alberto Nava found Collared Flycatcher. There are few old claims of this species but rejected on the basis of insufficient documentation. This time thre bird was photographed by me and later on many others too. This bird is new species for Kuwait if accepted by KORC. Next interesting bird was Green Finch. Similarly this is potentially new species for Kuwait. Unfortunately we didn't get pictures.
Collared Flycatcher (Ficedula albicollis) Note that the bird is 2nd calendar year bird. Brownish primaries and small white patch on them determine that. However having a full collar, big white forehead patch, showing entirely black tail and having white rump clearly indicate of Collared Flycatcher. So we can rule out possibility it to be a hybrid.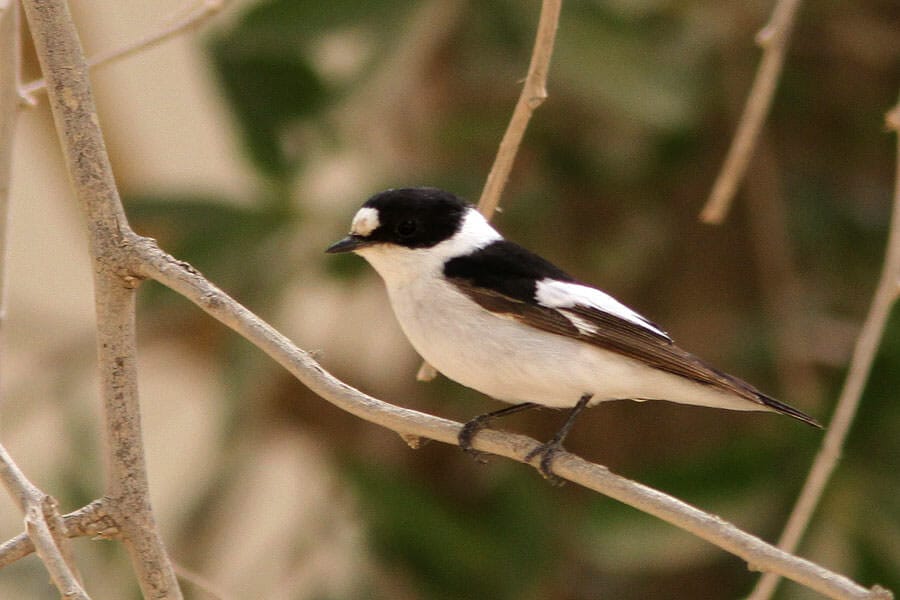 Collared Flycatcher. This picture shows entirely black tail and white rump.