Tanzania 10-26 March 2022
For those who are passionate about birding and wildlife, Tanzania stands out as a paradise. Home to over 1,155 bird species, it boasts a diversity of habitats from lush rainforests to arid savannahs, each hosting unique avian life. Here, one can spot everything from the small, vibrant Sunbirds to the majestic African Fish Eagle and the rare Usambiro Barbet, making Tanzania an absolute treat for bird enthusiasts.
The country's wildlife offerings are just as impressive. Tanzania hosts some of the largest wildlife herds on the planet, spread across renowned national parks like the Serengeti, Ngorongoro Crater, and Mikumi. These reserves provide unforgettable opportunities to view elephants, lions, zebras, giraffes, and the renowned Wildebeest Migration – one of the most spectacular wildlife shows on earth.
I opted for a birding trip to Tanzania and started searching the internet for reputable bird guides and tour operators. My search led me to Tanzania Birding & Beyond, (https://www.tanzaniabirding.com), a company that suited both my budget and interest. They offered a small group tour that was perfect for me, so I secured my spot for March.
The company proved to be professional and organised the tour impressively. I was extremely pleased with the outcome of my adventure, having sighted 372 bird species over two weeks, with 318 of them being new additions to my list.
Visiting Tanzania in March presented a stunning panorama, with the landscape lush and green, painting a truly enchanting scenery.
In preparing this trip, I used a recent trip report by Thomas Pettersson, "Tanzania, 30 November to 21 December 2020". The trip was organised by the same company, guide and driver (https://www.tanzaniabirding.com). https://www.tanzaniabirding.com/wp-content/uploads/TANZANIA-TRIP-REPORT-DEC-2020.pdf
| | | | | |
| --- | --- | --- | --- | --- |
| | Date | Hotel | Place | Coordinates |
| 1 | 9/03/2022 | Korona Villa Bed & Breakfast | Arusha | -3.4514, 36.7088 |
| 2 | 10/03/2022 | Elephant Motel | Same Village | -4.0710, 37.7508 |
| 3 | 11/03/2022 | Elephant Motel | Same Village | -4.0710, 37.7508 |
| 4 | 12/03/2022 | Mullers Mountain Lodge | Lushoto | -4.7600 38.3345 |
| 5 | 13/03/2022 | Mullers Mountain Lodge | Lushoto | -4.7600 38.3345 |
| 6 | 14/03/2022 | Mullers Mountain Lodge | Lushoto | -4.7600 38.3345 |
| 7 | 15/03/2022 | Amani Rest House | Amani | -5.1000, 38.6317 |
| 8 | 16/03/2022 | Amani Rest House | Amani | -5.1000, 38.6317 |
| 9 | 17/03/2022 | Amani Rest House | Amani | -5.1000, 38.6317 |
| 10 | 18/03/2022 | Camping at Uluguru | Uluguru | -6.8880 37.6713 |
| 11 | 19/03/2022 | Mapokezi Club | Gairo | -6.1480, 36.8677 |
| 12 | 20/03/2022 | Mapokezi Club | Gairo | -6.1480, 36.8677 |
| 13 | 21/03/2022 | Udzungwa Twiga Hotel | Manhula | -7.8485, 36.8891 |
| 14 | 22/03/2022 | Tan-Swiss Lodge | Mikumi | -7.3963, 37.0014 |
| 15 | 23/03/2022 | Tan-Swiss Lodge | Mikumi | -7.3963, 37.0014 |
| 16 | 24/03/2022 | Tan-Swiss Lodge | Mikumi | -7.3963, 37.0014 |
| 17 | 25/03/2022 | Queen Hotel | Morogoro | -6.8270 37.6595 |
The above map shows our movement, starting from the first day from Korona Villa B & B, continuing south of Ruaha where we stayed the last three nights in Tan-Swis Lodge.
Within fifteen days, I was fortunate to observe 372 bird species, with a notable 315 being new bird species to me. The entire trip went smoothly, allowing us to enjoy every bit of the country. We enjoyed the birdlife, the stunning landscapes, and the wonderful individuals we encountered. The journey was made all the more memorable by the excellent company of my fellow birder Eric, our knowledgeable bird guide Anthony, and our skilled driver Gaitan.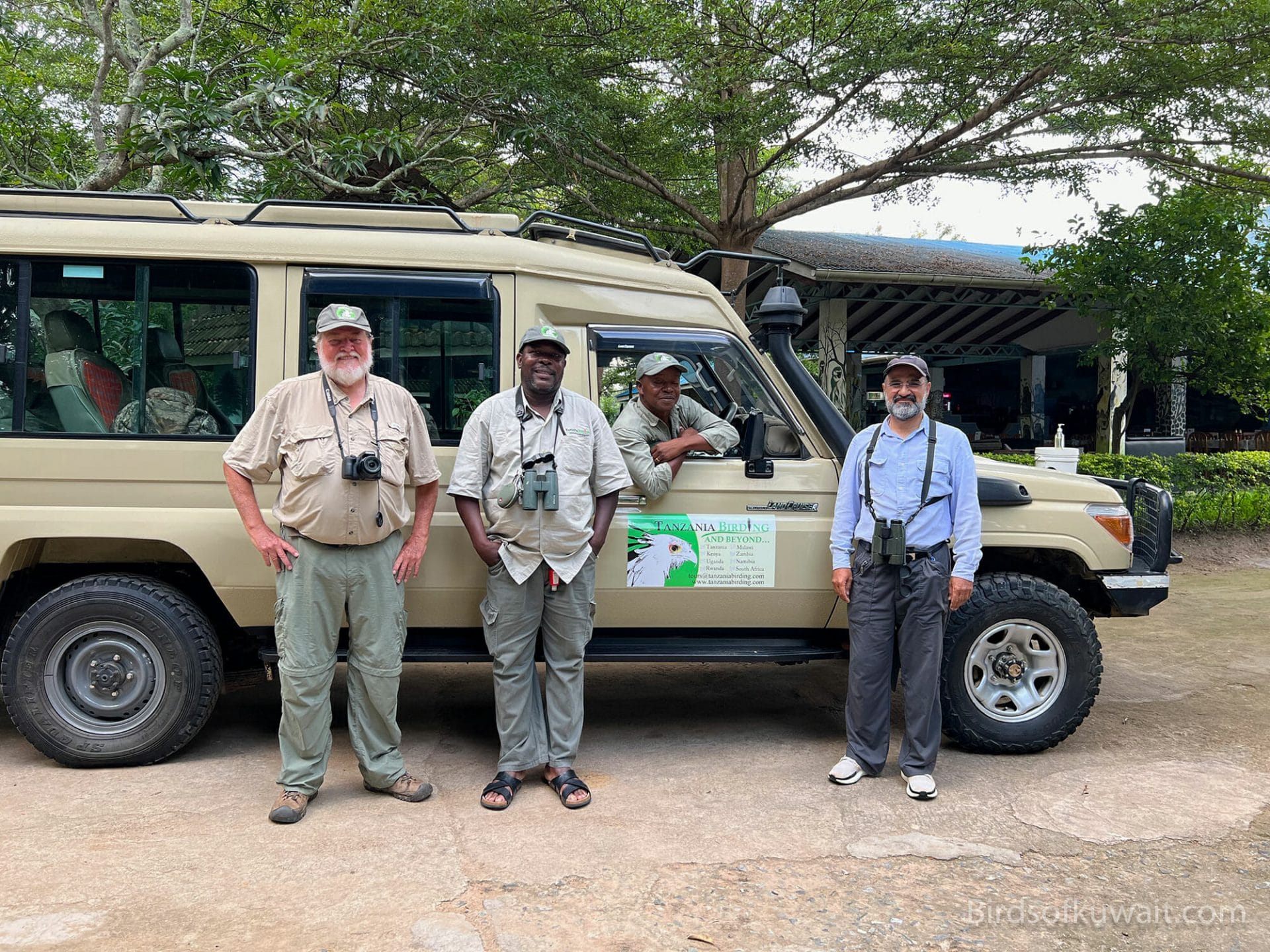 Day 1: 09/03/2022
My flights were booked on Qatar Airways, so I travelled from Kuwait to Doha, Qatar, and eventually reached Kilimanjaro Airport. Upon arrival, I was warmly received by a driver who accompanied me to the Korona Villa Bed & Breakfast in Arusha.
Day 2: 10/03/2023, the Lark Plain and on to South Pare
On the first day of my tour, I had the pleasure of meeting Eric Shaw, a fellow birder from the USA, who would be my companion throughout the entire tour. At 6:00 in the morning, we gathered with our guide, Anthony Raphael, and our driver, Gaitan, to begin our first birding day. Our destination was Sungate, situated approximately an hour's drive north of Arusha.
By 7:10, we had arrived at the Lark Plain at Sungate and wasted no time in commencing our birding activities. The sun had recently risen, and we were blessed with delightful weather featuring clear blue skies. Sungate presented a picturesque scene of a green semi-desert adorned with scattered bushes and acacia trees.
Our excitement peaked when we encountered the Beesley's Lark, an endemic bird species. We were fortunate to spot at least five of them, albeit with some difficulty due to their elusive nature. These birds were hiding amidst the grass and constantly on the move. Despite the challenges, we managed to observe them well, although photography proved to be a bit of a challenge.
We also had the pleasure of sighting several other remarkable bird species, many of which were new to me. Some notable mentions include the Crowned Lapwing, a delightful surprise as I have a fondness for lapwings, Black-headed Heron, Augur Buzzard, Speckled Mousebird, Chestnut-bellied Sandgrouse, White-fronted Bee-eater, Greater Kestrel, Foxy Lark, Red-capped Lark, Athi Short-toed Lark, Athi Short-tailed Lark, African Grey Flycatcher, Nyanza Swift, and African Pipit.
As we departed Sungate and embarked on our journey back to Arusha along the same route, my excitement soared when I spotted an elegant Capped Wheatear followed by a Fischer's Sparrow-Lark. To add to the thrill, we also came across a striking White-bellied Go-away-bird, a large bird showcasing a distinctive crest, and black and white plumage.
Continuing our journey, we made a stop along the road to admire the Abyssinian Wheatear, a bird with captivating beauty. Shortly after, our attention was caught by the vibrant presence of White-fronted Bee-eaters. As we marvelled at these stunning birds, our eyes were drawn to the magnificent Augur Buzzard perched on a road post, showcasing its regal presence.
To add to the excitement, a beautiful Lilac-breasted Roller made a graceful appearance, treating us to a mesmerising display of its vibrant plumage. Shortly after, we were fortunate to spot a Pygmy Falcon; we then came across a Hildebrandt's Starling, with its elegant presence. And to our delight, a Long-tailed Fiscal made an appearance, captivating us with its long tail and confident demeanour.
We finally reached our destination, the Naisinyai village and its surroundings, from the Manyara region. Here, we immersed ourselves in birding activities for nearly three hours, and our efforts were rewarded with the finding of almost twenty-seven new bird species for the day.
Among the highlights were the magnificent Vulturine Guineafowl, with its striking appearance and distinct patterns. We also encountered the elegant White-headed Mousebird, the vibrant Red-and-yellow Barbet, the Red-fronted Tinkerbird, and the captivating Black-throated Barbet. Other noteworthy sightings included the Pygmy Batis, the striking Pringle's Puffback, the Slate-coloured Boubou, and the agile Fork-tailed Drongo.
As we continued our birding tour, we had the pleasure of observing the Red-faced Crombec, the Yellow-breasted Apalis, and the Red-fronted Prinia. The avian diversity further delighted us with sightings of the Pale White-eye, Rufous Chatterer, resplendent Golden-breasted Starling, and vibrant Superb Starling.
Our eyes were then drawn to the Eastern Violet-backed Sunbird, Hunter's Sunbird, and Tsavo Sunbird, each displaying their unique colours and behaviours. The Vitelline Masked-Weaver, Chestnut Weaver, and Green-winged Pytilia added their own charm to the scene, while the Red-billed Firefinch made a double appearance. We were also fortunate to come across the Southern Grosbeak-Canary and the Golden-breasted Bunting.
On our way back to end the day, we stopped at a small wetland along Butu Road (-3.5156 37.5803). Here we had the Three-banded Plover, African Jacana, Malachite Kingfisher, and Taveta Golden-Weaver.
The first day of our tour had been incredibly rewarding, filled with memorable bird sightings and the thrill of encountering new species. I eagerly looked forward to the adventures that awaited us in the coming days.
We arrived at our hotel, the Elephant Motel, located in Same Village, at 7 pm.
Day 3: 11/03/2023, Mkomazi National Park
Departing from our hotel (-4.071232, 37.75062), we started our birding at approximately 7 am. Our initial destination was east of Same village, precisely located at -4.064203, 37.784891, where we aimed to arrive by 7:15 am. This particular site treated us to a remarkable display of avian diversity, with a total of twenty-four species observed in less than an hour, the majority of which were new sightings for me. It proved to be an exhilarating start to the morning.
The abundance of birds surrounding us immediately caught our attention, and the encounters unfolded rapidly. The first avian gem to grace our presence was the vibrant Bare-eyed Thrush, followed swiftly by the Tiny Cisticola, the Lesser-striped Swallow, and the striking Southern Black-Flycatcher perched atop a bush. Not long after, we were delighted by sightings of the Spotted Mourning-Thrush, a pair of D'Arnaud's Barbets, the Northern Red-billed Hornbill, the Red-bellied Parrot, and the Abyssinian Scimitarbill. As we continued our birding adventure, we saw an Eastern Yellow-billed Hornbill, Buff-bellied Warbler, Straw-tailed Whydah, White-browed Sparrow-Weaver, Blue-naped Mousebird, Red-and-yellow Barbet, Red-faced Crombec, Black-bellied Sunbird, and Hunter's Sunbird.
As we made our way back to the hotel in anticipation of breakfast, we found ourselves pleasantly entertained by the captivating calls and lively presence of three Silvery-cheeked Hornbills. Their resounding calls echoed through the air as they playfully perched overhead, adding an enchanting touch to our morning experience while we awaited the arrival of our breakfast.
Our journey continued as we departed from the hotel and set our course towards Zange Gate of the Mkomazi National Park (-4.0562 37.7914). Mkomazi National Park is located in northeastern Tanzania next to the Kenyan border, spans over 3,234 square kilometres, adorned with abundant Acacia-Commiphora vegetation. Arriving at the gate around 10:15 am, we were greeted by an incredible sight—an adult Wahlberg's Eagle perched just a few meters above us, seemingly observing our arrival. Its majestic presence captivated us as we stood face-to-face with this magnificent raptor.
Adjacent to the gate, a small puddle of water caught our attention, drawing an array of birds seeking refreshment. Among them, a particularly striking avian beauty stood out—a Red-cheeked Cordon-bleu. Adding to the colours surrounding us, a group of Red-billed Firefinches joined the scene, their plumage displaying various shades of red.
Then we soon met with the arrival of a Crimson-rumped Waxbill, showcasing its distinctive crimson rear plumage. It was enriched by the presence of a Northern Grey-headed Sparrow and a Parrot-billed Sparrow, and finally, a Beautiful Sunbird, that lived up to its name, came and perched on a wire, adding more colours to the scene.
Upon entering the reserve, we soon met a Northern White-crowned Shrike perched on a branch, then greeted by a magnificent African Hawk-Eagle, then a Von der Decken's Hornbill showed up, followed by a vibrant burst of blue hues caught our attention, a Lilac-breasted Roller and Superb Starling. Then the yellow colours showed up on a Yellow-necked Spurfowl and Pangani Longclaw.
Then we had a colourful Northern Carmine Bee-eater and Buff-crested Bustard entertained us for a while, Black-throated Barbet and Vulturine Guineafowl showed up briefly before taking shelter in the grass. On the trees around, we had a couple of Ring-necked Doves, Brubru, Pygmy Kestrel, Pangani Longclaw, the endemic Zanzibar Red Bishop, White-winged Widowbird, and then a Bateleur flew overhead. We then reached a small pool of water where we first saw two Spur-winged Geese, three Blacksmith Lapwings, a number of Egyptian Geese, and two African Woolly-necked Storks. On the tree next to the pool, we had a number of birds, Blue-capped Cordon-bleu, Southern Cordon-bleu, Dusky Indigobird and Red-billed Quelea. As we moved on, we saw three Crested Francolins, Pin-tailed Whydah, Zanzibar Red Bishop, Spot-flanked Barbet and Black-winged Red Bishop.
Then we saw a Rattling Cisticola, White-eared Barbet, a number of Black Saw-wings flying overhead, two Striped Pipits were on a rock next to a tree where we had another endemic, the South Pare White-eye, nearby we had African Dusky Flycatcher, Bar-throated Apalis entertained us a bit. As we moved on, an African Yellow Warbler showed well behind the branches, Yellow Bishop, Collared Sunbird, Eastern Double-collared Sunbird, Usambara Double-collared Sunbird, Pied Crow, White-necked Raven, Chestnut Weaver, Eastern Chanting-Goshawk, a couple of Red-billed Oxpeckers feeding on the back of African Buffalos, Taveta Golden-Weaver, Winding Cisticola, African Openbill, Pink-breasted Lark. From a long distance, we saw three Common Ostriches, and one Secretarybird. Then briefly had a Harlequin Quail, then a Red-winged Starling and a Trumpeter Hornbill.
Other birds seen inside the reserve include Emerald-spotted Wood-Dove, White-browed Coucal, Pied and Jacobin Cuckoo, African Grey Hornbill, Nubian Woodpecker, Black-headed Oriole, Grey-headed Bushshrike, Ashy Cisticola, Red-billed Buffalo-Weaver, White-browed Sparrow-Weaver, Fire-fronted Bishop, White-winged Widowbird, Grey-headed Silverbill and Common Waxbill.
By the end of the day, the total number of birds seen in Mkomazi National Park were sixty-four.
During our journey inside Mkomazi National Park, we also came across several fascinating African wildlife species, including the African Elephant, Vervet Monkey, Plains Zebra, Giraffe, Impala, Grant's Gazelle, Kirk's Dik-dik, and African Buffalo.
We overnighted at the Elephant Motel.
Day 4: 12/03/2023, South Pare Mountains
We left Elephant Motel at 8 am to reach our birding hotspot at -4.130583 37.882300 at 11:20, a three-hour drive!
During our drive to the birding hotspot, we stopped when we saw a bird on a bush, it turned out to be a Rattling Cisticola, in our next stop, we found Dusky Indigobird perched on a tree.
At the hotspot, where we spent almost two hours, we had thirty-one species. the highlights of which were the endemic South Pare White-eye, Rock Martin, Bar-throated Apalis, African Goshawk, African Firefinch, Reichenow's Seedeater, Cape Robin-Chat, Stripe-faced Greenbul, Cinnamon Bracken-Warbler (heard only), Evergreen-forest Warbler (heard only), Mountain Buzzard, Moustached Tinkerbird, Black-backed Puffback, Singing Cisticola.
Later in the afternoon, we made our way back to the hotel. After enjoying a satisfying lunch and taking some time to rest, we checked out and embarked on our journey south towards our next destination. Along the way, we took breaks to indulge in some birdwatching opportunities. Our first stop revealed an intriguing sight—a White-necked Raven feasting on a carcass on the asphalt road. Additionally, we were fortunate to spot a Chestnut Weaver and a Common Buzzard. Continuing our exploration, we paused to observe an Eastern Chanting-Goshawk majestically perched on a house's rooftop.
Our second stop treated us to a nearly dry pool teeming with avian activity. Amidst this habitat, we were delighted to encounter a Red-billed Oxpecker diligently foraging on a cow's back, Three-banded Plover, Little Stint, Sanderling, and Common Sandpiper.
Further, along our journey, we reached the Mkumazi-Umba River bridge, where another assortment of avian wonders awaited us. Here, we had the pleasure of sighting a Klaas's Cuckoo, Blacksmith Lapwing, Three-banded Plover, Wood Sandpiper, African Openbill, Pink-breasted Lark, Winding Cisticola, Taveta Weaver, Zanzibar Red Bishop, and Thick-billed Weaver.
At 7 pm, we arrived at our accommodation, Mullers Mountain Lodge (-4.760071 38.334572), where we lodged for three nights.
Day 5: 13/03/2023 West Usambaras (Tanga)
At 7:40 am, as we left the hotel, we were delighted to spot two Red-winged Starlings, a Brown-breasted Barbet, and an African Pied Wagtail, all within the hotel premises.
Afterwards, we drove south for approximately 20 minutes and ventured into the forest, covering a distance of over a kilometre. During this rewarding walk, we were fortunate to come across an array of fascinating birds, including the Hartlaub's Turaco, White-rumped Swift, Mountain Buzzard, Red-capped Forest Warbler, Bar-throated Apalis, Black-headed Apalis, Black Saw-wing, Waller's Starling, Spot-throat, and Black-and-white Mannikin. Following this birdwatching session, we returned to the hotel for lunch.
At the hotel, our birdwatching continued as we spotted three Augur Buzzards, Rock Martin, two Usambara Double-collared Sunbirds, African Pied Wagtail, and a Southern Citril.
After our satisfying meal, we revisited the same spot as the morning's birding session. We were delighted to encounter an endemic bird, Montane Tiny Greenbul, the fifth one for the trip. As we continued our birdwatching trip, we had the pleasure of adding the Eastern Bronze-naped Pigeon, Olive Woodpecker, Fülleborn's Boubou, Yellow-throated Woodland-Warbler, and Kenrick's Starling to our growing list of birds.
Day 6: 14/03/2023 West Usambaras
At 7:11 am, we left the hotel; after 15 minutes, around a bend, we encountered a Mountain Wagtail, a lifer for me.
Our first stop, located at (-4.7436, 38.2836), proved to be fruitful, as we added our sixth endemic species of the trip—the Usambara Akalat. Additionally, we spotted several new bird species for our trip, including the Bar-tailed Trogon, Cinnamon-chested Bee-eater, Grey Cuckooshrike, Black-fronted Bushshrike, Little Sparrowhawk, White-tailed Crested-Flycatcher, White-starred Robin, and Olive Sunbird.
We moved on to another spot to add to our list the seventh endemic species for the trip Usambara Thrush, and a colourful bird was moving on the ground between the bushes; it turned out to be a Cape Robin-Chat,then spotted Yellow-bellied Waxbill, Red-faced Crimsonwing, and Stripe-faced Greenbul.
On our way back to the hotel, as the darkness descended, we made a stop for some night birdwatching. To our great fortune, we came across the African Wood-Owl, Spotted Eagle Owl and Donaldson Smith's Nightjar.
Then back to the hotel to overnight in the Mullers Mountain Lodge.
Day 7: 15/03/2023 East Usambaras
Following our breakfast, we ventured south for about twenty minutes to revisit an area we had previously explored two days ago. Our luck was on our side as we successfully spotted the eighth endemic Usambara Weaver, and to our excitement, we also added the Forest Batis to our bird list.
At 10:35 am, we checked out of the hotel and continued our journey southward. En route, we made several stops, where we were fortunate to spot a variety of bird species, including the Bronze Mannikin, Eastern Golden-Weaver, Tambourine Dove, East Coast Boubou, and Scarlet-chested Sunbird.
As we drove further, we were delighted to come across the majestic Long-crested Eagle and the charming Coastal Cisticola.
Later, we paused to enjoy a delicious lunch at Rockhill Restaurant in Korogwe. While savouring our meal, we were entertained by the sight of three Pied Crows, two Yellow-billed Kites flying and a House Crow.
With renewed energy, we embarked on a direct drive that lasted nearly four hours, heading to our next destination. Just before sunset, we arrived at Amani Rest House, where we stayed for three nights.
Day 8: 16/03/2023 East Usambaras
We explored the area around our Rest House; we encountered a Green Barbet on top of a tree, together with Black-bellied Starling. Also had Pale Batis, Mosque Swallow, Palm-nut Vulture, Brown-hooded Kingfisher, and African Harrier-Hawk.
In the afternoon, we ventured south from our accommodations. Here, our search was rewarded with sightings of an African Pygmy Kingfisher, Green-headed Oriole, Spectacled Weaver, Ayres's Hawk-Eagle, Yellow-rumped Tinkerbird, Pallid Honeyguide, the endemic Banded Green Sunbird, and Purple-banded Sunbird. The skies were graced with African Black Swifts together with Scarce Swifts. We also spotted a Long-billed Forest Warbler, Grey-olive Greenbul, Cabanis's Bunting, Shelley's Greenbul, Crowned Eagle, and Green-backed Camaroptera.
Day 9: 17/03/2023 East Usambaras
After we had our breakfast, we went south again, (-5.138134, 38.615329), adding to our list the endemic Lowland Tiny Greenbul, and Green Malkoha, Narina Trogon, African Broadbill, Little Yellow Flycatcher, Uluguru Violet-backed Sunbird.
We also had Forest Batis, Mountain Buzzard, Collared Sunbird, Fork-tailed Drongo, Waller's Starling, Crowned Eagle, and Green-backed Camaroptera.
Day 10: 18/03/2023 East Usambaras and Ulugurus Mountain
Today, we drove from Amani to Morogoro, stopping at any birding hotspots along the way. Within the first hour, we halted to observe a Green-headed Oriole. Our next stop was at a wooded area where we discovered a Black-headed Oriole, Chestnut-fronted Helmetshrike, Grey Tit-Flycatcher, and a Dark-backed Weaver.
We also saw some previously spotted birds, including the Little Yellow Flycatcher and Kenrick's Starling.
Our journey led us to the Wami Bridge, a location where we identified a Black-winged Red Bishop, Eastern Golden-Weaver, Wire-tailed Swallow, White-throated Bee-eater, and a Barn Swallow.
We then passed Morogoro town and stopped the car, met a local guide for the Uluguru Mountain named Khamees, who knows the area very well and also prepared the logistics for camping. We then followed Khamees hiking on the Uluguru mountain on foot for almost two hours, birding along the way; we reached our campsite just before sunset (-6.888003 37.671288). We camped in tents next to an abandoned building built by the Germans but was abandoned after WW2.
Throughout our hiking, we encountered various birds such as the Livingstone's Turaco, Ayres's Hawk-Eagle, Lesser Honeyguide, African Black Swift, and Variable Sunbird. We also saw some familiar birds, including the White-browed Robin-Chat, Scarlet-chested Sunbird, Pale White-eye, Black Saw-wing, Pale White-eye, Speckled Mousebird, and Black-backed Puffback.
Day 11: 19/03/2023 Ulugurus Mountain
Before dawn, we began our ascent on a slender trail leading to the top of Uluguru Mountain, anticipating the sight of three endemic species. The climb was a rigorous one, involving a three-hour hike before we finally arrived at the dense forest of Uluguru Mountain. We saw the Uluguru Greenbul, and Loveridge's Sunbird but failed to see the Uluguru Bushshrike; although we heard its call, it refused to reveal itself, despite a lot of effort.
We also saw, Mocking Cliff-Chat, Red-collared Widowbird, White-necked Raven, Trilling Cisticola, Terrestrial Brownbul and African Stonechat. In the afternoon, we drove for three hours to reach our next hotel, Mapokezi Club in Gairo (-6.14801, 36.8677).
Day 12: 20/03/2023 Rubehos
We started the morning birding by going south. Along the way, a dirt track; as we approached a small wetland, we encountered a Hamerkop, and we continued driving; then we had Helmeted Guineafowl, Pied Crow and Eurasian Hoopoe. As we began ascending to an elevation of 1850 ASL, we found our targets, a couple of Black-lored Cisticolas, Bertram's Weaver, African Firefinch, Red-collared Widowbird, Yellow Bishop and a Southern Fiscal (Uhehe).
We continued moving higher but this time ventured into a dense forest, where we had three endemic birds, Winifred's Warbler, Moreau's Sunbird and Rubeho Akalat, then African Olive Pigeon, Livingstone's Turaco, Moustached Tinkerbird, Olive Woodpecker, Fülleborn's Boubou, Black-fronted Bushshrike, Red-capped Forest Warbler, Chapin's Apalis, Yellow-throated Greenbul, Violet-backed Starling, White-eyed Slaty-Flycatcher, Dark Batis, Slender-billed Starling, Red-throated Twinspot.
In our way back to the hotel, we encountered a White-bellied Canary, Northern Fiscal and a group of Superb Starlings and Pied Crows.
We overnighted in Gairo at Mapokezi Club House.
Day 13: 21/03/2023 East Udzungwas
Today was a long driving day, we took the Road B129 east, then B127 south until we reached Mikumi then south Mikumi to our hotel Udzungwa Twiga Hotel (-7.8485, 36.8891). We stopped few times along the road to some birding. Our first stop was along Road B127m where we had Emerald-spotted Wood-Dove, White-browed Coucal, Red-chested Cuckoo, Hadada Ibis, Lesser Striped Swallow, Sombre Greenbul, Thrush Nightingale, Red-headed Weaver, Blue-capped Cordon-bleu, Broad-tailed Paradise-Whydah.
We also saw stopped to find African Openbill, Pale-billed Hornbill, Black-crowned Tchagra.
At another stop, we had, Tawny-flanked Prinia, Short-winged Cisticola, Yellow-fronted Canary, and Fan-tailed Widowbird.
We stayed for one night at Udzungwa Twiga Hotel.
Day 14: 22/03/2023 Kilombero Floodplain
Our morning commenced with a drive southward from our hotel on a dirt track. We paused upon sighting a Kingfisher, which turned out to be a Brown-hooded Kingfisher. Persisting on the same trail, we found a Dickinson's Kestrel perched on a wooden electricity post. Subsequently, we spotted a Blue-spotted Wood-Dove perched on the power lines. As we ventured further south, we came across another diminutive Kingfisher; closer inspection revealed it to be a Striped Kingfisher. Similarly, we encountered a Southern Grey-headed Sparrow, and a Black-winged Red Bishop.
Upon reaching our destination, we halted at the fringe of a reedbed situated along a nearly dry lake. There to our surprise, we found the three endemics Kilombero Cisticola, White-tailed Cisticola and Kilombero Weaver. And an intriguing assortment of birds, including the Coppery-tailed Coucal, Reed Cormorant, Black-winged Kite, Pied Kingfisher, Red-headed Quelea, and Giant Kingfisher. We subsequently arrived at the Kilombero Bridge, where we spotted two White-faced Whistling-Ducks.
As midday approached, we made the decision to return to our hotel. We steered northward, pausing at a reed bed where we were fortunate to spot an Eastern Golden-Weaver, Southern Brown-throated Weaver, and Kilombero Weaver. Nearing our hotel, our guide directed our attention to a small stream. On the edge of a branch hanging over the water, we discovered a Half-collared Kingfisher — marking our fifth kingfisher sighting of the day.

Having taken a restful break and enjoyed our lunch, our guide led us on an hour-long walk around the hotel. During this stroll, we observed a Crowned Hornbill, Cardinal Woodpecker, Moustached Grass-Warbler, Tawny-flanked Prinia, Spectacled Weaver, Magpie Mannikin, Pin-tailed Whydah, and Purple Indigobird.
Post this, we checked out of our current lodging and journeyed north to our next destination, the Tan-Swiss Lodge in Mikumi (-7.3963, 37.0014). This happened to be our home for the coming three nights before the tour officially concluded. The drive took us approximately two hours and twenty minutes along the A7 road to reach our accommodation, Tan-Swiss Lodge.
Day 15: 23/03/2023 around Mikumi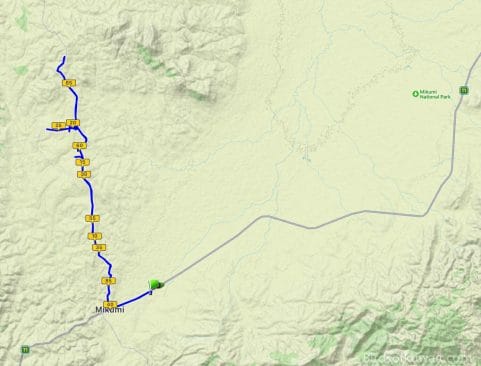 We departed from the hotel at 7:30 am, travelling on roads A7 and B127. After an hour's drive, we reached our first birding site situated 10 km north of Mikumi (-7.3166, 36.9587). At this location, we observed the Purple-crested Turaco, White-breasted Cuckooshrike, African Penduline Tit, Miombo Wren-Warbler, Neddicky, and Red-collared Widowbird. Following this, we relocated further north to another hotspot (-7.2999, 36.9573), where we spotted the Brown-headed Parrot, Western Miombo Sunbird, Black-eared Seedeater, Speckle-throated Woodpecker, and Green-capped Eremomela. After the eventful morning, we returned to the hotel for some rest and lunch.
Following a restful period and lunch, we journeyed north again, venturing beyond our morning spot to halt at (-7.259544, 36.950755). Our initial sighting here was a pair of Ruaha Chat — both a male and a female. We then moved closer to a tree, where our guide spotted an African Barred Owlet nestled in the dense branches. Our sightings also included a Crested Barbet, African Golden Oriole, White-crested Helmetshrike, and Rufous-bellied Tit. We then retraced our steps back to the morning site, where we were delighted to spot Western Violet-backed and Amethyst Sunbirds.
Overnighted at Tan-Swiss Cottages
Day 16: 24/03/2023 Mikumi National Park
Today marked a departure from our routine as we ventured into a protected park, providing us with opportunities to see a variety of different birds and mammals. We spent six hours inside the park, entering at 9 am and leaving at 3 pm. During our stay, we enjoyed lunch by a small pool and successfully recorded sightings of forty-three distinct species.
Initially, while Mathew was buying tickets at the office, we were captivated by the sight of three adult White-backed Vultures, perched on a pair of trees just above the entrance, offering us a majestic welcome to the reserve. A Wire-tailed Swallow was also perched on the office building. While we were taking images of the Swallow, a Rüppell's Vulture joined the aerial greeting party, soaring in circles above us. Then joined by a White-backed Vulture, so we could compare their underwings and shape.
We then got greeted by Impalas, and then a flock of almost 60 African Openbills decorated the sky in front of us. As we continued driving, a Black-bellied Bustard showed up in the grass close to our track, followed by a Red-necked Spurfowl, African Grey Hornbill, Marabou Stork, Lilac-breasted Roller, then a Red-billed Oxpecker, Fischer's Sparrow-Lark, Croaking Cisticola, Pale-crowned Cisticola, Northern Pied-Babbler, Southern Ground-Hornbill, Miombo Blue-eared Starling (Miombo), Water Thick-knee, Blacksmith Lapwing, Grey Heron, Great Egret (African), White-headed Vulture, Bateleur, Black-chested Snake-Eagle, African Little Bee-eater African Fish-Eagle, Brown Snake-Eagle, and Yellow-throated Longclaw. All entertained us while we were on their territory.
The array of mammals we observed within the Mikumi National Park included the African Elephant (Loxodonta africana), Yellow Baboon (Papio cynocephalus), Plains Zebra (Equus quagga), Common Warthog (Phacochoerus africanus), Hippopotamus (Hippopotamus amphibius), Impala (Aepyceros melampus), Common Wildebeest (Connochaetes taurinus), Southern Reedbuck (Redunca redunca), African Buffalo (Syncerus caffer), and Giraffe (Giraffa camelopardalis). In terms of reptilian life, we encountered just one species, the White-throated Monitor (Varanus albigularis).
Overnighted at Tan-Swiss Lodge
Day 17: 25/03/2023
After breakfast, we dove on A7, then B127 north, to stop at (-7.29989, 36.95875). We found two Green Wood Hoopoes.
We then went back to A7 and continued south for two hours to stop between a mountain and the Great Ruaha River (-7.521567 36.602087). Here we found the last two endemics of the trip, Tanzanian Red-billed Hornbill and Ashy Starling.
At this point, our journey had come to a close, leading us to drive back to Morogoro and check into our hotel, the Queens Hotel. It was time to bid farewell to our guide Anthony and our driver Gaitan, who had done a remarkable job acquainting us with the beautiful birds and stunning landscapes of this country. We extended our best wishes to them and said our goodbyes.
Day 18: 26/03/2023 Dar es Salaam
Following breakfast in the morning, a driver transported us to Dar es Salaam. Eric proceeded to the airport for his flight to Pemba Island, while I, having a later flight, checked into a hotel. I then took a taxi for my final birding excursion in Tanzania, heading to the Pugu Hills Forest Reserve. The reserve was bustling with visitors, leading me to journey quite a distance to reach a pool. There, I spotted a Palm-nut Vulture perched on a tree and observed a few Common Bulbuls. After departing the reserve, I chanced upon a farm where I spotted my final new species, a Village Indigobird. I then returned to the hotel, checked out, and made my way to the airport.
Bird List (IOC v13.2 Taxonomy) (eBirds Taxonomy in RED)
Common Ostrich Struthio camelus
White-faced Whistling Duck Dendrocygna viduata
Egyptian Goose Alopochen aegyptiaca
Spur-winged Goose Plectropterus gambensis
Helmeted Guineafowl Numida meleagris
Vulturine Guineafowl Acryllium vulturinum
Crested Francolin Ortygornis sephaena
Harlequin Quail Coturnix delegorguei
Yellow-necked Spurfowl Pternistis leucoscepus
Red-necked Spurfowl Pternistis afer
Little Grebe Tachybaptus ruficollis
Speckled Pigeon Columba guinea
African Olive (Rameron) Pigeon Columba arquatrix
Eastern Bronze-naped (Delegorgue's) Pigeon Columba delegorguei
Red-eyed Dove Streptopelia semitorquata
Ring-necked Dove Streptopelia capicola
Emerald-spotted Wood Dove Turtur chalcospilos
Blue-spotted Wood Dove Turtur afer
Tambourine Dove Turtur tympanistria
Namaqua Dove Oena capensis
Chestnut-bellied Sandgrouse Pterocles exustus
Buff-crested Bustard Lophotis (Eupodotis) gindiana
Black-bellied Bustard Lissotis melanogaster
Livingstone's Turaco Tauraco livingstonii
Hartlaub's Turaco Tauraco hartlaubi
Purple-crested Turaco Gallirex (Tauraco) porphyreolophus
White-bellied Go-away-bird Crinifer leucogaster
Coppery-tailed Coucal Centropus cupreicaudus
White-browed Coucal Centropus superciliosus
Green Malkoha Ceuthmochares australis
Jacobin (Pied) Cuckoo Clamator jacobinus
Diederik (Dideric) Cuckoo Chrysococcyx caprius
Klaas's Cuckoo Chrysococcyx klaas
Red-chested Cuckoo Cuculus solitarius
Donaldson Smith's Nightjar Caprimulgus donaldsoni
Scarce Swift Schoutedenapus myoptilus
Nyanza Swift Apus niansae
African Black Swift (African Swift) Apus barbatus
Little Swift Apus affinis
White-rumped Swift Apus caffer
African Palm Swift Cypsiurus parvus
Water Thick-knee Burhinus vermiculatus
Blacksmith Lapwing Vanellus armatus
Crowned Lapwing Vanellus coronatus
Three-banded Plover Charadrius tricollaris
African Jacana Actophilornis africanus
Sanderling Calidris alba
Little Stint Calidris minuta
Common Sandpiper Actitis hypoleucos
Wood Sandpiper Tringa glareola
African Openbill Anastomus lamelligerus
African Woolly-necked Stork Ciconia microscelis
Marabou Stork Leptoptilos crumenifer
Reed (Long-tailed) Cormorant Microcarbo africanus
Hamerkop Scopus umbretta
Grey Heron Ardea cinerea
Black-headed Heron Ardea melanocephala
Purple Heron Ardea purpurea
Great Egret Ardea alba
Western Cattle Egret Bubulcus ibis
Hadada Ibis Bostrychia hagedash
Secretarybird Sagittarius serpentarius
Black-winged Kite Elanus caeruleus
African Harrier-Hawk Polyboroides typus
Palm-nut Vulture Gypohierax angolensis
White-headed Vulture Trigonoceps occipitalis
White-backed Vulture Gyps africanus
Rüppell's Vulture (Griffon) Gyps rueppelli
Bateleur Terathopius ecaudatus
Black-chested Snake Eagle Circaetus pectoralis
Brown Snake Eagle Circaetus cinereus
Crowned Eagle Stephanoaetus coronatus
Long-crested Eagle Lophaetus occipitalis
Wahlberg's Eagle Hieraaetus wahlbergi
Booted Eagle Hieraaetus pennatus
Ayres's Hawk-Eagle Hieraaetus ayresii
Tawny Eagle Aquila rapax
African Hawk-Eagle Aquila spilogaster
Eastern Chanting Goshawk Melierax poliopterus
African Goshawk Accipiter tachiro
Little Sparrowhawk Accipiter minullus
Black Sparrowhawk (Goshawk) Accipiter melanoleucus
Black Kite Milvus migrans
African Fish Eagle Haliaeetus vocifer
Common Buzzard Buteo buteo
Mountain Buzzard Buteo oreophilus
Augur Buzzard Buteo augur
Spotted Eagle-Owl Bubo africanus
African Barred Owlet Glaucidium capense
African Wood Owl Strix woodfordii
Speckled Mousebird Colius striatus
White-headed Mousebird Colius leucocephalus
Blue-naped Mousebird Urocolius macrourus
Narina Trogon Apaloderma narina
Bar-tailed Trogon Apaloderma vittatum
Eurasian Hoopoe Upupa epops
Green Wood Hoopoe (Woodhoopoe) Phoeniculus purpureus
Violet Wood Hoopoe (Woodhoopoe) Phoeniculus damarensis
Abyssinian Scimitarbill Rhinopomastus minor
Southern Ground Hornbill Bucorvus leadbeateri
Crowned Hornbill Lophoceros alboterminatus
African Grey Hornbill Lophoceros nasutus
Pale-billed Hornbill Lophoceros pallidirostris
Eastern Yellow-billed Hornbill Tockus flavirostris
Von der Decken's Hornbill Tockus deckeni
Tanzanian Red-billed Hornbill Tockus ruahae
Northern Red-billed Hornbill Tockus erythrorhynchus
Silvery-cheeked Hornbill Bycanistes brevis
Trumpeter Hornbill Bycanistes bucinator
Half-collared Kingfisher Alcedo semitorquata
Malachite Kingfisher Corythornis cristatus
African Pygmy Kingfisher Ispidina picta
Brown-hooded Kingfisher Halcyon albiventris
Striped Kingfisher Halcyon chelicuti
Giant Kingfisher Megaceryle maxima
Pied Kingfisher Ceryle rudis
White-fronted Bee-eater Merops bullockoides
Little Bee-eater Merops pusillus
Cinnamon-chested Bee-eater Merops oreobates
White-throated Bee-eater Merops albicollis
Blue-cheeked Bee-eater Merops persicus
European Bee-eater Merops apiaster
Northern Carmine Bee-eater Merops nubicus
European Roller Coracias garrulus
Lilac-breasted Roller Coracias caudatus
Crested Barbet Trachyphonus vaillantii
Red-and-yellow Barbet Trachyphonus erythrocephalus
D'Arnaud's Barbet Trachyphonus darnaudii
White-eared Barbet Stactolaema leucotis
Green Barbet Stactolaema olivacea
Moustached Tinkerbird Pogoniulus leucomystax
Yellow-rumped Tinkerbird Pogoniulus bilineatus
Red-fronted Tinkerbird Pogoniulus pusillus
Spot-flanked Barbet Tricholaema lacrymosa
Black-throated Barbet Tricholaema melanocephala
Brown-breasted Barbet Lybius melanopterus
Pallid Honeyguide Indicator meliphilus
Lesser Honeyguide Indicator minor
Cardinal Woodpecker Dendropicos (Chloropicus) fuscescens
Olive Woodpecker Dendropicos (Chloropicus) griseocephalus
Nubian Woodpecker Campethera nubica
Speckle-throated (Reichenow's) Woodpecker Campethera scriptoricauda
Golden-tailed Woodpecker Campethera abingoni
Pygmy Falcon Polihierax semitorquatus
Greater Kestrel Falco rupicoloides
Dickinson's Kestrel Falco dickinsoni
Eurasian Hobby Falco subbuteo
Brown-headed Parrot Poicephalus cryptoxanthus
Red-bellied Parrot Poicephalus rufiventris
African Broadbill Smithornis capensis
Grey Cuckooshrike Ceblepyris (Coracina) caesius
White-breasted Cuckooshrike Ceblepyris (Coracina) pectoralis
(African) Golden Oriole Oriolus auratus
Green-headed Oriole Oriolus chlorocephalus
Black-headed Oriole Oriolus larvatus
Forest (Short-tailed) Batis Batis mixta
Dark Batis Batis crypta
Pale Batis Batis soror
Pygmy Batis Batis perkeo
White-crested (White) Helmetshrike Prionops plumatus
Chestnut-fronted Helmetshrike Prionops scopifrons
Brubru Nilaus afer
Pringle's Puffback Dryoscopus pringlii
Black-backed Puffback Dryoscopus cubla
Black-crowned Tchagra Tchagra senegalus
East Coast (Zanzibar) Boubou Laniarius sublacteus
Slate-colored Boubou Laniarius funebris
Fülleborn's Boubou Laniarius fuelleborni
Black-fronted Bushshrike Chlorophoneus nigrifrons
Grey-headed Bushshrike Malaconotus blanchoti
Fork-tailed Drongo Dicrurus adsimilis
African Paradise Flycatcher Terpsiphone viridis
Red-backed Shrike Lanius collurio
Red-tailed (Turkestan) Shrike Lanius phoenicuroides
Isabelline Shrike Lanius isabellinus
Long-tailed Fiscal Lanius cabanisi
Northern Fiscal Lanius humeralis
Southern Fiscal Lanius collaris
Northern White-crowned Shrike Eurocephalus ruppelli
House Crow Corvus splendens
Pied Crow Corvus albus
White-necked Raven Corvus albicollis
White-tailed Crested Flycatcher Elminia albonotata
Rufous-bellied Tit Melaniparus rufiventris
Grey (African) Penduline Tit Anthoscopus caroli
Beesley's Lark Chersomanes beesleyi
Fischer's Sparrow-Lark Eremopterix leucopareia
Pink-breasted Lark Calendulauda poecilosterna
Foxy Lark Calendulauda alopex
Red-capped Lark Calandrella cinerea
Athi Short-toed Lark Alaudala athensis
Short-tailed Lark Spizocorys fremantlii
Red-faced Crombec Sylvietta whytii
Moustached Grass Warbler Melocichla mentalis
Green-capped (Greencap) Eremomela Eremomela scotops
Red-capped (African) Forest Warbler Artisornis metopias
Long-billed Forest Warbler Artisornis moreaui
Miombo Wren-Warbler Calamonastes undosus
Green-backed Camaroptera Camaroptera brachyura
Buff-bellied Warbler Phyllolais pulchella
Bar-throated Apalis Apalis thoracica
Yellow-breasted Apalis Apalis flavida
Chapin's Apalis Apalis chapini
Black-headed Apalis Apalis melanocephala
Tawny-flanked Prinia Prinia subflava
Red-fronted Prinia Prinia rufifrons
Rubeho Warbler Scepomycter rubehoensis
Singing Cisticola Cisticola cantans
Trilling Cisticola Cisticola woosnami
Black-lored Cisticola Cisticola nigriloris
Kilombero Cisticola Cisticola bakerorum
Rattling Cisticola Cisticola chiniana
Ashy Cisticola Cisticola cinereolus
Coastal Cisticola Cisticola haematocephalus
White-tailed Cisticola Cisticola anderseni
Winding Cisticola Cisticola marginatus
Croaking Cisticola Cisticola natalensis
Neddicky (Piping Cisticola) Cisticola fulvicapilla
Short-winged (Siffling) Cisticola Cisticola brachypterus
Tiny Cisticola Cisticola nana
Pale-crowned Cisticola Cisticola cinnamomeus
African Yellow Warbler Iduna natalensis
Evergreen Forest Warbler Bradypterus lopezi
Cinnamon Bracken Warbler Bradypterus cinnamomeus
Banded Martin Neophedina cincta
Rock Martin Ptyonoprogne fuligula
Barn Swallow Hirundo rustica
Wire-tailed Swallow Hirundo smithii
Red-rumped Swallow Cecropis daurica
Lesser Striped Swallow Cecropis abyssinica
Mosque Swallow Cecropis senegalensis
Black Saw-wing Psalidoprocne pristoptera
Sombre Greenbul Andropadus importunus
Shelley's Greenbul Arizelocichla masukuensis
(Eastern) Mountain Greenbul Arizelocichla nigriceps
Uluguru Greenbul Arizelocichla neumanni
Stripe-cheeked Greenbul Arizelocichla milanjensis
Yellow-throated Greenbul (Atimastillas) Arizelocichla chlorigula
Terrestrial Brownbul Phyllastrephus terrestris
Grey-olive Greenbul Phyllastrephus cerviniventris
Lowland Tiny Greenbul Phyllastrephus debilis
Montane Tiny (Usambara) Greenbul Phyllastrephus albigula
Common Bulbul Pycnonotus barbatus
Yellow-throated Woodland Warbler Phylloscopus ruficapilla
Little Yellow Flycatcher Erythrocercus holochlorus
Pale White-eye Zosterops flavilateralis
South Pare White-eye Zosterops winifredae
Rufous Chatterer Argya rubiginosa
Northern Pied Babbler Turdoides hypoleuca
Red-billed Oxpecker Buphagus erythrorynchus
Yellow-billed Oxpecker Buphagus africanus
Violet-backed Starling Cinnyricinclus leucogaster
Slender-billed Starling Onychognathus tenuirostris
Red-winged Starling Onychognathus morio
Waller's Starling Onychognathus walleri
Kenrick's Starling Poeoptera kenricki
Black-bellied Starling Notopholia corusca
Hildebrandt's Starling Lamprotornis hildebrandti
Ashy Starling Lamprotornis unicolor
Golden-breasted Starling Lamprotornis regius
Superb Starling Lamprotornis superbus
Lesser Blue-eared Starling Lamprotornis chloropterus
Usambara Thrush Turdus roehli
(African) Bare-eyed Thrush Turdus tephronotus
African Dusky Flycatcher Muscicapa adusta
Spotted Flycatcher Muscicapa striata
African Grey Flycatcher Melaenornis microrhynchus
Grey Tit-Flycatcher Myioparus plumbeus
Southern Black Flycatcher Melaenornis pammelaina
White-eyed Slaty Flycatcher Melaenornis fischeri
Rufous-tailed Scrub Robin Cercotrichas galactotes
Cape Robin-Chat Cossypha caffra
White-browed Robin-Chat Cossypha heuglini
Spotted Palm (Morning) Thrush Cichladusa guttata
White-starred Robin Pogonocichla stellata
Usambara Akalat Sheppardia montana
Rubeho Akalat Sheppardia aurantiithorax
White-throated Robin Irania gutturalis
Thrush Nightingale Luscinia luscinia
Common Rock Thrush Monticola saxatilis
African Stonechat Saxicola torquatus
Mocking Cliff Chat Thamnolaea cinnamomeiventris
Ruaha Chat Myrmecocichla collaris
Capped Wheatear Oenanthe pileata
Isabelline Wheatear Oenanthe isabellina
Abyssinian Wheatear Oenanthe lugubris
Spot-throat Modulatrix stictigula
Western Violet-backed Sunbird Anthreptes longuemarei
Eastern Violet-backed Sunbird Anthreptes orientalis
Uluguru Violet-backed Sunbird Anthreptes neglectus
Banded Green Sunbird Anthreptes rubritorques
Collared Sunbird Hedydipna collaris
Olive Sunbird Cyanomitra olivacea
Amethyst Sunbird Chalcomitra amethystina
Scarlet-chested Sunbird Chalcomitra senegalensis
Hunter's Sunbird Chalcomitra hunteri
Western Miombo Sunbird Cinnyris gertrudis
Eastern Double-collared Sunbird Cinnyris mediocris
Usambara Double-collared Sunbird Cinnyris usambaricus
Moreau's Sunbird Cinnyris moreaui
Loveridge's Sunbird Cinnyris loveridgei
Beautiful Sunbird Cinnyris pulchellus
Hofmann's Sunbird Cinnyris hofmanni
Black-bellied Sunbird Cinnyris nectarinioides
Purple-banded Sunbird Cinnyris bifasciatus
Tsavo Sunbird Cinnyris tsavoensis
Variable Sunbird Cinnyris venustus
Red-billed Buffalo Weaver Bubalornis niger
White-browed Sparrow-Weaver Plocepasser mahali
Red-headed Weaver Anaplectes rubriceps
Bertram's Weaver Ploceus bertrandi
Spectacled Weaver Ploceus ocularis
Eastern Golden Weaver Ploceus subaureus
Taveta (Golden) Weaver Ploceus castaneiceps
Southern Brown-throated Weaver Ploceus xanthopterus
Kilombero Weaver Ploceus burnieri
Vitelline Masked Weaver Ploceus vitellinus
Village Weaver Ploceus cucullatus
Chestnut Weaver Ploceus rubiginosus
Dark-backed (Forest) Weaver Ploceus bicolor
Usambara Weaver Ploceus nicolli
Red-headed Quelea Quelea erythrops
Red-billed Quelea Quelea quelea
Zanzibar Red Bishop Euplectes nigroventris
Black-winged Red Bishop Euplectes hordeaceus
Fire-fronted Bishop Euplectes diadematus
Yellow Bishop Euplectes capensis
White-winged Widowbird Euplectes albonotatus
Red-collared Widowbird Euplectes ardens
Fan-tailed Widowbird Euplectes axillaris
Thick-billed (Grosbeak) Weaver Amblyospiza albifrons
Grey-headed Silverbill Spermestes griseicapilla
Bronze Mannikin Spermestes cucullata
Magpie Mannikin Spermestes fringilloides
Black-and-white Mannikin Spermestes bicolor
Yellow-bellied Waxbill Coccopygia quartinia
Red-faced Crimsonwing Cryptospiza reichenovii
Common Waxbill Estrilda astrild
Crimson-rumped Waxbill Estrilda rhodopyga
Blue Waxbill (Southern Cordonbleu) Uraeginthus angolensis
Red-cheeked Cordon-bleu Uraeginthus bengalus
Blue-capped Cordon-bleu Uraeginthus cyanocephalus
Green-winged Pytilia Pytilia melba
Red-throated (Peters's) Twinspot Hypargos niveoguttatus
Red-billed Firefinch Lagonosticta senegala
African Firefinch Lagonosticta rubricata
Pin-tailed Whydah Vidua macroura
Broad-tailed Paradise Whydah Vidua obtusa
Straw-tailed Whydah Vidua fischeri
Village Indigobird Vidua chalybeata
Dusky (Variable) Indigobird Vidua funerea
Purple Indigobird Vidua purpurascens
Northern Grey-headed Sparrow Passer griseus
Parrot-billed Sparrow Passer gongonensis
Southern Grey-headed Sparrow Passer diffusus
Yellow-spotted Bush Sparrow Gymnoris pyrgita
Mountain Wagtail Motacilla clara
Grey Wagtail Motacilla cinerea
Western Yellow Wagtail Motacilla flava
African Pied Wagtail Motacilla aguimp
African Pipit Anthus cinnamomeus
Striped Pipit Anthus lineiventris
Yellow-throated Longclaw Macronyx croceus
Pangani Longclaw Macronyx aurantiigula
Yellow-fronted Canary Crithagra mozambica
Southern Citril Crithagra hyposticta
Reichenow's Seedeater Crithagra reichenowi
White-bellied Canary Crithagra dorsostriata
Southern Grosbeak-Canary Crithagra buchanani
Black-eared Seedeater Crithagra mennelli
Cabanis's Bunting Emberiza cabanisi
Golden-breasted Bunting Emberiza flaviventris