16/04/2012 at Zour Port
In fact we visited first Green Island in the morning for Red-vented Bulbul which we saw easily. Most common warbler was Blackcap. We saw one Eastern Orphean Warbler too. Next stop, Fahaheel Park, produced at least 4 Wrynecks. From watchtower at Al Kout shopping mall we saw 4 White-cheeked Terns and 6 Socotra Cormorants.
At Mina Zour we hoped to see Bridled Terns but we surprisingly failed to see any. Instead we saw many migrating birds including 10 Glossy Ibises, over 100 Whimbrels and many wader-species. One flock of herons and egrets included 5 Purple Herons, Squacco Heron, 7 Little Egrets and Cattle Egret. Socotra Cormorants had already arrived and we had good views.
Our records by Martyn Kenefick, who kindly gave me his notes:
Whimbrel 140 ( new highest daily count), Grey Plover 15, Curlew Sandpiper 8, Turnstone 2, Sanderling 2, Purple Heron 5, Little Egret 7, Squacco Heron 1, Cattle Egret 1, Glossy Ibis 10, Arctic Skua 2 (light phase), Little Tern 5, White-cheeked Tern 2, Sandwich Tern 2, Lesser Crested Tern 2 and Slender-billed Gull 51
Socotra Cormorant (Phalacrocorax nigrocularis)
Socotra Cormorant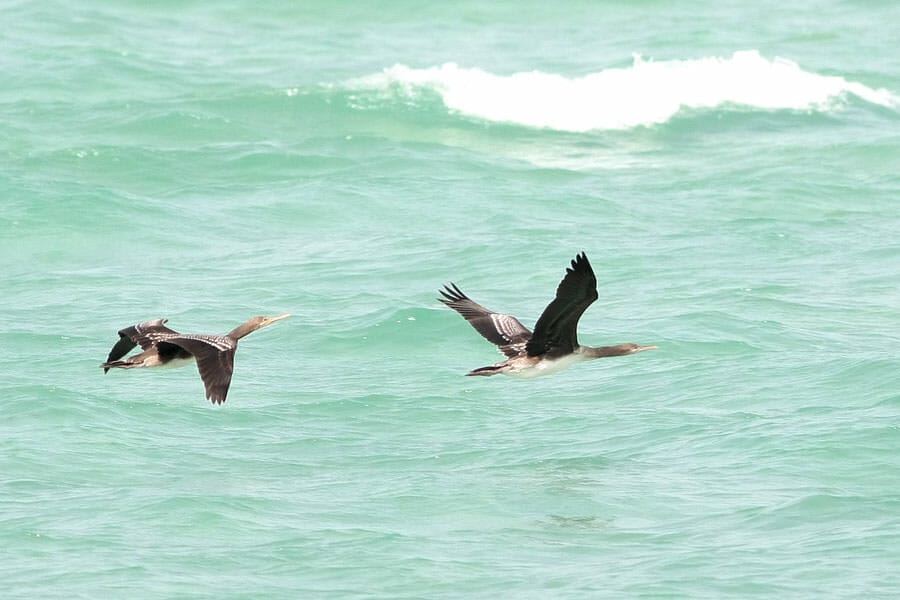 Mixed flock of herons: 5 Purple Herons (Ardea purpurea), Squacco Heron (Ardeola ralloides), 7 Little Egrets (Egretta garzetta) and Cattle Egret (Bubulcus ibis)